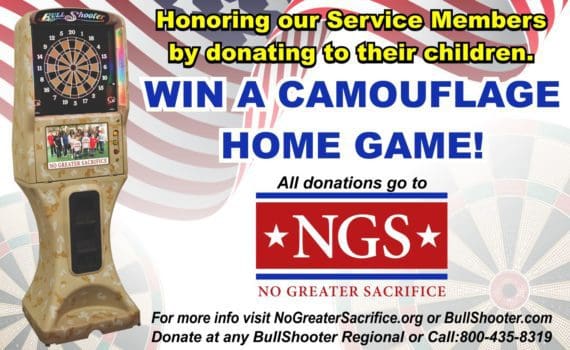 No Greater Sacrifice(NGS) and Arachnid 360 are teaming up again. Together we are presenting another great opportunity to support our Service Men, Women,  and their families. Each donation made, assists our Service Member's children through their pursuit of higher education.
We are asking for your help in honoring these Service Members through small monetary donations. Your donation will help their children as well as give you a chance to win a camouflage Galaxy 3 home game. This special soft tip dartboard will be given away at this years BullShooter 33 Finals in Chicago on May 24-28, 2018.
For every $5 donated you will receive 1 entry ticket towards the camouflage dartboard. All Donations can be made in one of 4 ways.
1.) At any BullShooter Regional
2.) By mailing a check or money order(don't forget to note in the memo "For NGS Donation") to:
Arachnid 360
Attn: Jeanne Garigliano
P.O. Box 2901
Loves Park, IL 61111
3.) Call: 800-435-8319 Mon.-Fri. 8am – 5pm CST. (Ask for Jeanne)
4.) Or electronic donations can be made here. Make sure you follow these easy steps…
–Choose your donation amount. Electronically the minimum is $10 (That means you will get 2 entries to win the Dartboard.)
–Make sure you set the "Special Purpose for your donation" to: Dart Game
(This is a must in order to be entered to win the Camouflage Dartboard.)
–The rest of the options are up to your discretion. (They offer the ability to make donations in honor of someone as well.)
–Then make sure you complete your donation. (Again, this is a must in order to be entered to win the Camouflage Dartboard.)
Thank you for your help in supporting No Greater Sacrifice.
* If you would like to donate to the cause and enter for the drawing at the BullShooter 33 Finals in Chicago, May 24-28, 2018. We will be accepting donations up until the drawing at 12:00 pm CST Monday May 28th, 2018. Remember you DO NOT need to be present to win. Hope to see you there.