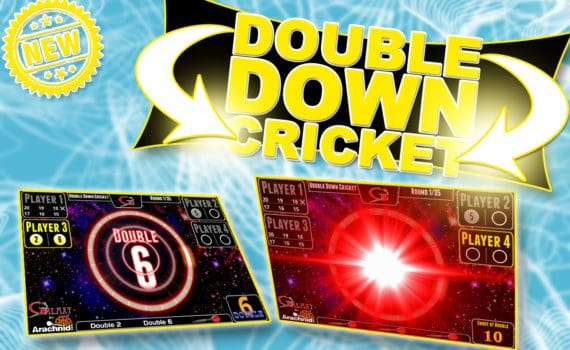 Arachnid ran a promotion on their newest game on the Galaxy 3, Double Down Cricket. The promotion ran from March 15 to April 15, 2017. You had to be a registered HotButton player and have the most remote play games (in Double Down Cricket) during that period of time. Monty Olson, from Rapid City, South Dakota, was the lucky dart player that won the new iPad. Congratulations Monty, enjoy your iPad!
The newest soft-tipped dart game from Arachnid 360 and the first installment in our new series, Remote Play Dart Game of the Month is Double Down Cricket. Only available on the Galaxy 3 Live series dartboards.
This new cricket game gives the traditional Cricket dart game a fun and extra challenging twist.
The concept is pretty simple: Throw two of your favorite soft tipped darts at the two randomly assigned doubles to "double in" before you can begin the Cricket stage. Then, once you close out all the marks in the Cricket stage, you must "double down" on the Double 1 to finish the game. ( You know – that frustrating number historically positioned between the 20 and 18 on the standard dartboard layout 😉 ) Oh, by the way, there are NO Bullseyes AND NO Points. Sounds easy, right?
The game is a race to the finish. It sports a new design and visual effects.
Next time you play on the G3 dartboard, give it a try and let us know what you think.
AND, from March 15th to April 15th, 2017, We've decided to recognize soft-tipped dart playing enthusiasts up to the Double Down Challenge by awarding an iPad to the hugeist Fan who plays the most Double Down dart games in Remote Play!!!
That's right, the HotButton, registered, ranked player with the most plays of Double Down Cricket wins an iPad!